Moderates holding emergency meeting in Islamabad, Pakistan, following murder of Shahbaz Bhatti; vigils held outside press clubs
Tags
#sfama , #shahbazbhatti , #taseer , al-qaeda , asia bibi , christians , extremism , isi , islam , islamism , marvi memon , marvi sirmed , mass media , moderates , muslims , pakistan , salmaan taseer , shahbaz bhatti , sherry rehman , syed yousaf raza gillani , tehrik-i-taliban , twitter
---
Moderates inside Pakistan are holding an emergency meeting right now in Islamabad following the murder of Shahbaz Bhatti, Minister for Minorities in the Pakistani government. It is essential to realise just how much pressure is being placed upon moderates of all stripes inside Pakistan, through threats, intimidation, lynchings and other murders.
Shahbaz Bhatti, Minister for Minorities,
was murdered today
; he was a Christian, but was supported by many moderate Muslims, like
Salmaan Taseer
, who was murdered earlier this year,
Sherry Rehman
,
Marvi Memon
, Marvi Sirmed and so on.
The security detail meant to guard Shahbaz Bhatti just happened to be
conveniently missing
today;
one or more pamphlets placed
inside Bhatti's car showed Tehrik-i-Taliban and al-Qaeda claiming the murder as their action, and threatening with death other minorities, Christians and moderate Muslims, as in the case of Asia Bibi and other cases (no less than over thirty people have been lynched by extremist mobs in the wake of the Asia Bibi affair - lynchmob rule). Edited to add: it should be emphasized that this newest murder was foreseeable --
Shahbaz Bhatti foretold his own murder himself
.
The press inside Pakistan is showing a noteable indifference towards covering the news of the murder; moderate Pakistanis are demonstrating outside press clubs inside Pakistan at the moment as a result, to try getting the press to have some tiny bit of courage.
You can follow the news on Twitter regarding the Islamabad meeting of moderates as they plan what to do, under the hashtag #ShahbazBhatti, and also the hashtag #SAFMA (I like to think the last was because of my suggestion on Twitter).
Please support the moderates inside Pakistan
in any way you can; they are risking their lives. Please write to your newspapers, write articles for your newspapers and letters, demand further coverage, and write to your givernment representatives suggesting the time has come for international sanctions against the Pakistani government. The current ruling prime minister of Pakistan, Syed Yousaf Raza Gillani, has shamefully let down the moderates and minorities time and time again, as have many other government figures. The ISI, Pakistan's shadowy military secret-intelligence, which controls the army and Pakistan itself as final decision-maker on everything of importance in Pakistan, has long played a double-game, encouraging the jihadists and extremists, providing them with arms and funds. Now the extremists are slowly taking Pakistan over through outright murder.
Courtesy of the Guardian
: Shahbaz Bhatti' car following the murder: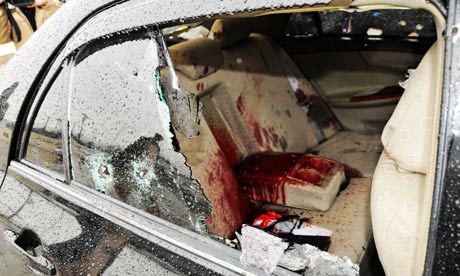 Comments are welcome! Please keep in mind if you are not registered that comments posted here to this blog post may take a while to appear - up to 16 hours after you post them, since they go onto a moderation queue and have to be individually approved, owing to a recent flood of spammers. The answer to the so-called "Random Question" is always "human".
Posted 02-Mar-2011 at 04:42 PM (16:42) by

muddleglum

Posted 02-Mar-2011 at 05:19 PM (17:19) by

Gurdur
Trackbacks